USD $104.96
Featuring two vibrations working harmoniously with one another, the bestselling Whooper Swan has tantalizing sensations unlike anything you've felt before. Using two stimulators which appear to be reaching out to pleasure you, the Whooper Swan's vibrations consist of one strong and one deep sensation. This allows for an experience of low to intense vibration that is entirely up to you. Prepare yourself for the sexual luxury for which the Whooper Swan is known.
Product SpecificationsDetails
: Waterproof, Travel-Ready, Phthalate-free
Dimensions
: 18.8 cm x 3.6 cm (bottom) x 2.7 cm (small tip) x 4 cm (large tip)
Finish
: 100% Seamless Silicone
Run Time
: Up to 7 Hours
Charge Time
: 2 Hours
Battery
: Rechargeable Lithium-Ion
Pleasure Technology
:2 Separately Controlled Vibrations Powered by
PowerBullet
®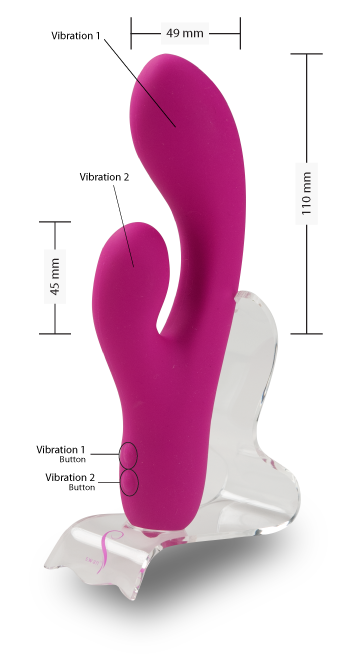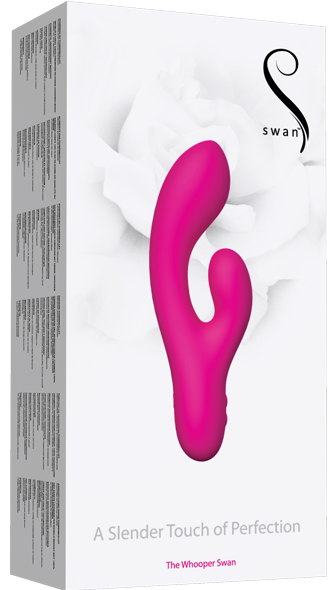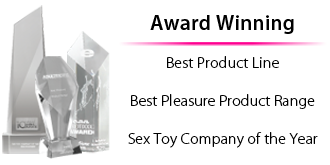 Wonderful By Lauren, Feb 06 2015

A really good vibe, a little small for me, but fantastic nonetheless!

Best dual stimulator I have ever tried. By Gritty Woman, Sep 13 2013

I often find rabbit style vibrators can be hit and miss, but the Whooper Swan really surprised me in that it fit my body almost perfectly. The main shaft is bulbous and curved, so when it is inserted, it sits up against the g-spot and it feels comfortable, due to the flexibility in the main arm. The clitoral arm rested across the centre of my clitoris, which was almost perfect. The two arms form a comfortable 'clamping' around the vagina, as the main shaft rests up behind the pubic bone internally and the little arm sits against the clitoris externally. This shape works so well that I could even use the Whooper completely hands free, without feeling like the Whooper would slip out or move position. Rocking my hips and squeezing my muscles caused the clitoral arm to slide back and forth and the internal shaft to press and slide gently against my g-spot. I could enjoy hands free orgasms as I lay back and let the Whooper do all the work. The vibrations from the main arm are deep, rumbling and very powerful. I would describe it as the best g-spot vibrator I have used, because the main arm rests in exactly the right place to apply the best sensation and pressure against my g-spot, even without vibrations on. When I turn on the deep rumbling main shaft, the sensations are intense. The clitoral arm vibrates less deeply than the main shaft, but still it is, by no means, a wimp either. It provided semi-deep, but powerful vibrations which did not let me down, and I am a power seeker. Due to the shape of the clitoral arm, the sensations do not feel like rabbit ears do. Instead, it feels similar to using a bullet vibrator against your clitoris, while another powerful vibrator goes to work on your g-spot. I much prefer the Whooper than standard rabbit vibrators. I would go as far as to say that the Whooper Swan is my favourite dual stimulator, It has powerful, deep vibrations and it fits my anatomy extremely well. It also has a lot of features that impress me; It is rechargeable, waterproof, easy to clean, looks beautiful and made from a silky soft, body safe silicone. It is also simple to operate and the buttons are easy to reach when needed. (Careful though, they can be accidentally pressed during play, which will turn the vibrators off, interrupting the mood briefly.) I would highly recommend the Whooper Swan, especially to ladies who are fans of rabbit style vibrators and are looking for a high quality, powerful and unique dual stimulator.

Wow! By Manz, Feb 23 2012

This product is great! I have always bought the same old rabbit which always did the job but was boring.... To many buttons to press ... Float batteries all the time... Too much hard work. The lovely ladies at Erotica recommended this to me and it was easy to use, smooth and sensual - simply fantastic!
Q:

Question about "The Whooper Swan": I have the Jopen vr6 that seems to be the exact same item. Mine is a fushia color. My question is your product looks pink. Its hard to tell online. If yours is a true pink and not fushia please let me know. I would love to get it if it is a true pink!

A:

Thanks for your interest in Swan! It's true that Vanity and Swan are the same great collection of products under a different name. The only differences are the colours that you noticed and that Swan is unavailable in North America. However if you would really like a pink Swan product, there may be some retailers who are able to ship it to you internationally. Please visit our Retailers page (http://www.swanvibes.com/where_to_buy) for more information and contacts. Don't forget, if you love one of our products, please rate it on our site! Thank you for the question.